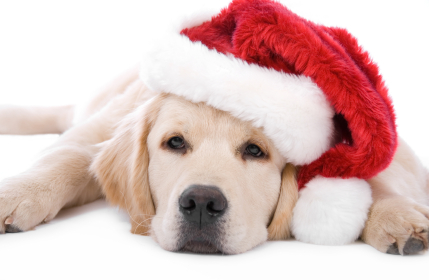 Humans aren't the only ones indulging at Christmas, according to just released research by
PawClub.com.au
, 72 per cent1 of dog owners admit to feeding their dog under the table at the Christmas meal and 84 percent of dog owners revealed there is a gift under the tree for their pooch.
The study, conducted by Pfizer Animal Health website -
PawClub.com.au
, which surveyed over 300 dog owners across Australia, confirms that during the festive season, dogs are included in the usual Christmas traditions, particularly when it comes to gift-giving and the Christmas feast.
The saying 'give the dog a bone' takes a more literal meaning at Christmas time with dog owners
acknowledging that chew toys are gifts of choice for their canine companions. 47 per cent said they chose to give their dogs new toys or leads, whilst 37 per cent thought a little extra food as a Christmas treat was fine.
The Christmas meal might be the reason why 12 per cent of respondents noticed that their dogs had gained a few kilos over the Christmas period4. Another 25 per cent of dog owners said that they were surprised their dogs didn't put on more weight considering the amount of food they eat.
Leading vet and media personality, Dr Ark says that whilst it's okay to sneak the odd treat to your dog under the table, it's important not to forget their basic needs, like regular walks and preventative care.
"Christmas is a really busy time of year so owners should make sure their dogs are exercised and fed
normally over the holiday period. In some instances, keeping the dog walk at the top of the list could help both owners and their dogs shed those extra Christmas kilos!"
Over half of the survey respondents kept a regular walking routine with their dogs over the holiday period with only 15 per cent admitting to walking their dog less during this time6. Dr Ark said that a credible website like
PawClub.com.au
is a great resource for general dog care information. "The 'Places to go' section in particular is a great way for dog owners to find pooch-friendly places to visit across Australia. That way, owners can find more ways to spend time with their dogs and keep those puppy kilos off with regular exercise."
PawClub.com.au
aims to fill the need for online dog care information by providing dog owners and potential dog owners with the resources and support they are searching for, bridging the gap between vets and the online space.
Becoming a Pawclub.com.au member is free of charge and by doing so dog owners will receive tailored
newsletters including treatment reminders and access to veterinary advice. As part of PawClub's focus on happy, healthy dogs.